Salsa Vinaigrette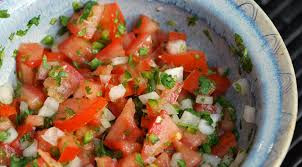 We know a large portion of our food choices should be as colored as possible. Greens, yellows, reds, blue, orange, purple and all colors in between.
When it come to salads we may have a tendency to purchase the latest low-fat, low sodium salad condiment. But without knowing the exact portions of ingredients and the sources of the product. It maybe in our best interest to make our own healthy "I know what it is dressing" because you made it.
Ingredients:
Dice up 3 fresh Roma tomatoes, 1/2 yellow onion, cilantro, 1 Jalapeno ( with, without or partially with seeds)
Add to it:
3 tablespoons extra-virgin olive oil
1/2 teaspoon ground pepper
1/2 teaspoon of Sea Salt
3 tablespoons of Rice wine vinegar or Apple cider vinegar
Mix all together. Can wrap and place in refrigerator for flavors to gel.
Place some on your favorite salad and enjoy! It can actually go on anything.
Let me know how and tastes and send me pictures of your creations!
Regards
Next Level
Dr. Pigott