I've been noticing over the past few weeks to months that all of you who are training at Next Level are gaining in strength and aerobic fitness. Where I would like to see more improvement is recognizing when your body has reached its physical limit. Each session we should be pushing ourselves incrementally to make sure we get the most out of each and every training session. Namely, this blog is about how do we manage FATIGUE. In particular, as we get older we need to understand pacing ourselves a bit more to minimize injury.
When training at the gym the goal is to push ourselves within a reasonable limit to change our bodies. In the course of these challenges a number of things are taking place in our sessions:
PART 1
We rely on

carbohydrates

and

fats

for fuel. In short duration activities; carbohydrates. In long duration activities fats.
The exercise window when lifting weights, before fatigue is up to 1 min.
Cardio depending upon distance and intensity can be

10 sec to 2 min

.
Hydration is a key component to exercise as it acts to transport nutrients to vital organs and helps dissipate heat
Proper

breathing

helps control the flow of oxygen in our bodies
How does all this affect me? Well think about your last workout. When you started getting fatigued ( TIRED ) did you notice:
Slowing down
Struggling with the weight
Tightening your facial muscles
Taking shorter breaths
PART 2
When any or all of PART 1 isn't adhered to we can run the risk of:
Hyperventilating
Pulling a muscle
Losing proper exercise form. Which leads to putting more stress on the spine.
Dehydration can lead to cramps
Nausea
Training smart is the key to getting smart results. Becoming more AWARE of our personal "fitness wall"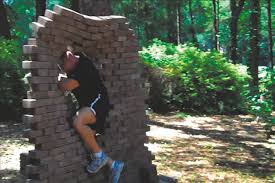 can increase our fitness potential by pacing the speed and resistance. Over time this can help us break through this "fitness wall" and help create a more hospitable environment for our bodies to develop both aerobically and in strength.
Nevertheless, I'll be here by your side letting you know when to ramp it down or when to "take it to the Next Level"!
Yours in Fitness
A. Pigott DC